∞
My First Trip with the Tom Bihn Tri-Star
My addiction to Tom Bihn gear began slowly. A few years ago, I bought a Daylight Briefcase to carry my iPad to school in. This school year, I upgraded to a Synapse 25 backpack as my every day carry bag.
Once my love grew to full obsession, I knew I needed some sort of travel bag as well. For Christmas this year, I received a Tri-Star and some packing cubes.
I recently went to Memphis for 2 nights, took my new setup, and wanted to share a bit about the experience. Unfortunately, I had the idea to write about this after I had returned home and unpacked, so I don't have many pictures. However, I am traveling again soon and will share more then.
Before I get into specifics of my setup, I wanted to give an overview of the Tri-Star and its features.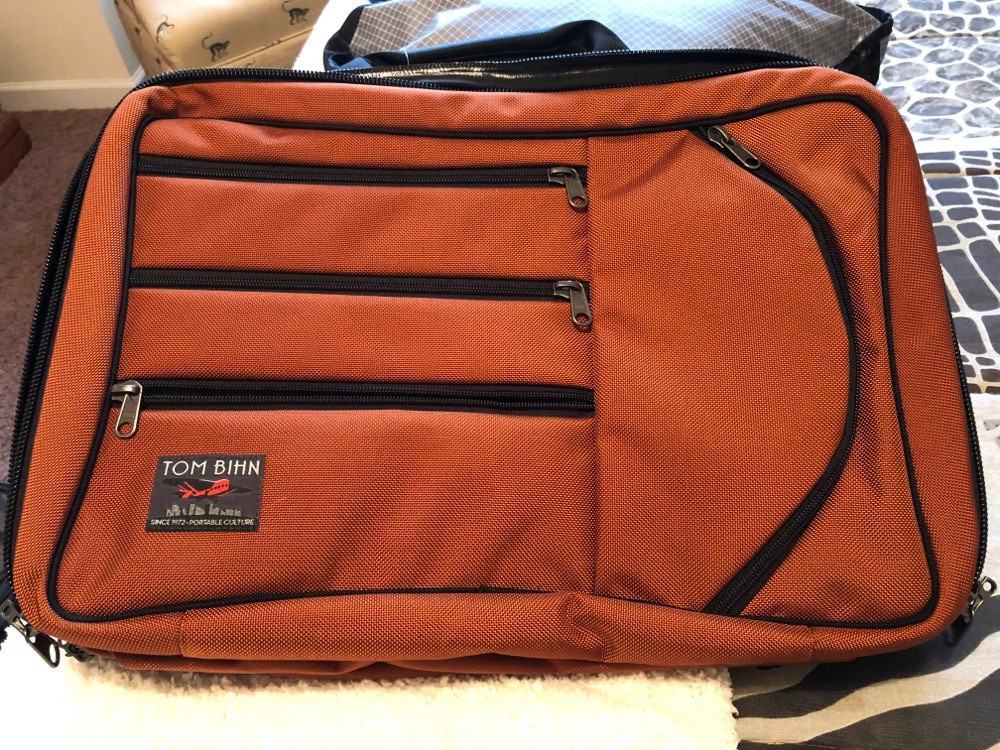 Tom Bihn's website describes the Tri-Star as "a midsize carry-on travel bag replete with useful features." I would say this is accurate. It had 3 primary compartments, 3 pockets on the front, can be carried by the handle, with a strap, or as a backpack, and has many standard TB features such as O-rings to attach accessories in every pocket, the ability to attach a cache for a laptop or iPad, and more.
The front compartment has a zip-able divider that can introduce a 1/3, 2/3 split for further organization of clothes or supplies.
The middle compartment is probably the biggest, and is where you can store the laptop cache among other things.
Finally, the back compartment is the full length of the bag, and includes straps, which can be used to tie down and compress any clothes stored there.
The Accessories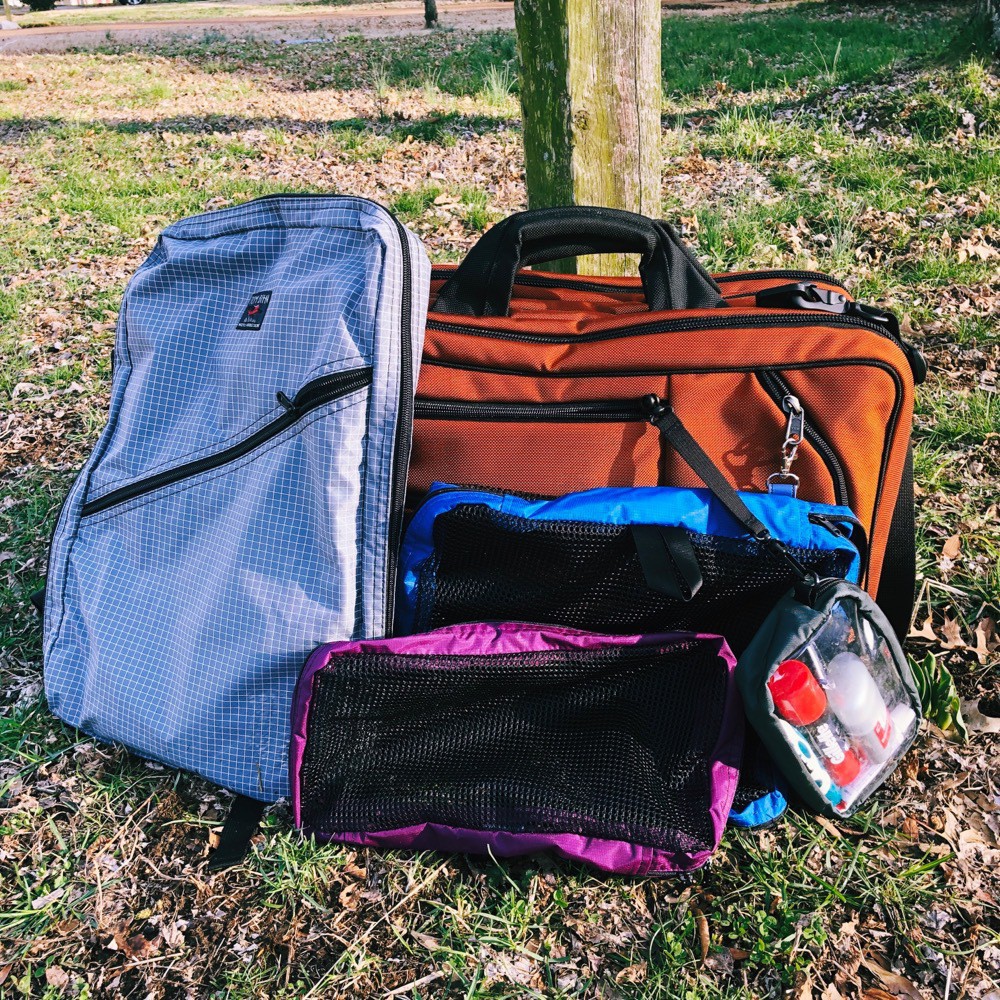 Tom Bihn bags have great built in organization, so you don't need accessories to effectively pack. However, they offer a wide range of tools to add an additional layer of organization. Here's what I took with me:
Having never traveled with packing cubes before, I can easily say this was one of the best parts of the experience. There were 11 of us staying in the AirBnB, so space was limited. I loved being able to leave my clean clothes in the medium packing cube as its own storage space in the room. I also always knew where my things were and never had to dig.
For this trip, because it was by car and didn't involve lugging the bag around an airport, I never utilized the Tri-Star's backpack straps. Instead, I carried it around using the Absolute Shoulder Strap. This worked on this trip, but the bag was still heavy. If I was going to be carrying the bag more, I would definitely use it as a backpack.
Packing
This first trip was an experiment in how to pack the Tri-Star, and I learned some lessons, but first, here's what I packed.
In the small packing cube, I had a pair of Nike Metcon shoes so I could exercise while traveling. This was probably the least necessary cube as shoes would fit in the small section of the front compartment, but it was nice for uniformity sake.
In the medium packing cube, I had 3 undershirts, 3 pairs of underwear, and 4 pairs of socks, all ranger rolled. This was least successful piece as I think I'm not good at rolling clothes tight enough to make them fit well. For my next trip, I'm going to try folding and spreading out my items. From what I have read, this cube should be able to hold far more than it did, but even with these supplies, it felt full. I'd like to be able to get a few more undershirts and pairs of underwear in there on future trips.
In the packing cube backpack, I had 1 pair of slacks, a pair of gym shorts, 3 t-shirts, and 1 long sleeve shirt/jacket. This all fit perfectly with plenty of room to spare.
In the Tri-Star's middle compartment, I put my 2018 12.9" iPad Pro in its Tom Bihn Cache, a small Q-kit that holds some medicine, my toiletries in the 3D Organizer Cube (I'll get to that in a moment), and Pen/Pencil Clear Organizer Pouch, and Two Books. This compartment was large enough that I could see myself bringing a Daylight Briefcase with me if I was ever traveling for work.
Another area where I was a little disappointed it was the front pockets. It was difficult to fit anything in any pocket other than the largest after I had already packed the main, front compartment. Next time I might try and pack the smaller pockets first. I fit my Kindle in the largest pocket, and a small pack of wipes into the middle one. I haven't found anything that will go in the smallest pocket yet. I topped it all off with a water bottle in the water bottle holder.
3D Organizer Cube, Clear
I selected this pack based on the Tom Bihn Website's recommendation as a 3-1-1 liquid carrying pack. What I didn't really think through is this size would make it difficult to pack non-liquid items, such as a razor. I did eventually make it work, however I think on future, non-flying trips, I might bring a slightly larger holder (a Tom Bihn spiff kit or Clear Quarter Packing Cube) as my toiletry case. The 3D Organizer Cube will still work for the times I fly. There was plenty of room in the middle pocket for a larger pouch anyway.
Packing Cube Backpack
This piece the biggest delight of the Tri-Star experience. I chose a packing cube backpack over a regular large packing cube hesitantly. I thought I might have been spoiled by my Synapse 25, and not care for a lesser backpack. This couldn't be further from the truth.
I was pleasantly surprised by the simplicity of the pack's look. And with plenty of O-rings, and a front pocket, I managed to keep my iPad cache, kindle, water bottle, pen case, q-kit, snake charmer, and wipes with me as I walked around Memphis. The modularity of Tom Bihn products is one of the biggest draws for me, and this was a perfect example. I took the backpack to meetings, sight-seeing, and was able to keep the Tri-Star in my room while having essentials with me at all time.
No matter what TB travel bag you purchase, you should absolutely pick up a Packing Cube Backpack for it.
Verdict
The Tri-Star is an incredible bag, and one I'm excited to travel with for years to come. I think it's the right fit for me due to its modularity. While the accessories aren't 100% necessary, they definitely were helpful. If you aren't someone who likes to have a place for everything and everything in its place, you might look at some other Bihn bags. But for me, this will be my primary luggage for all trips for the foreseeable future.
I'm traveling again in a few weeks for a few days longer, and will report back on the experience after making some changes.